Becoming a builder and more.


Build a home by joining the Builder Pathway and level up with us!
The Builder Pathway allows for ordinary people to participate and practice continuity in our flagship initiative – Epic Homes.
The Builder Pathway comprises of several roles and ranks of our volunteers to engage in technical proficiencies, leadership and a heart of service through the act of build homes, managing teams and various projects.
The Builders
Be a part of the Builder Community and rise through the ranks. These ranks performs different roles on an Epic Homes build.
Learn more below!

Recruits
are builders who have only just attended a Basic Builder Workshop but have yet to complete an Epic Home.
Rookies
are beginner builders equipped with basic build knowledge.
Apprentices
are individual of promising potential and posesses above average build knowledge and skills. An Apprentice is able to lead specific tasks within a build whislt also being able to encorporate the element of time, tools and material management.
Specialists
are highly skilled builders that possesses advanced build knowledge, skills and experiences. They are also able to lead and manage teams on a small to medium scale projects and tasks.. The Specialist is also able to evaluate safety & potential hazards of builders and volunteers.
Master Builder
is an epic individual who possesses expertised build knowledge, skills and on-time delivery experiences. The Master Builder is also able to lead and manage all aspects of the build in 4M (Man, Machine, Material & Method) wilst upholding the epic spirit and manifesto.
The Pathway Progression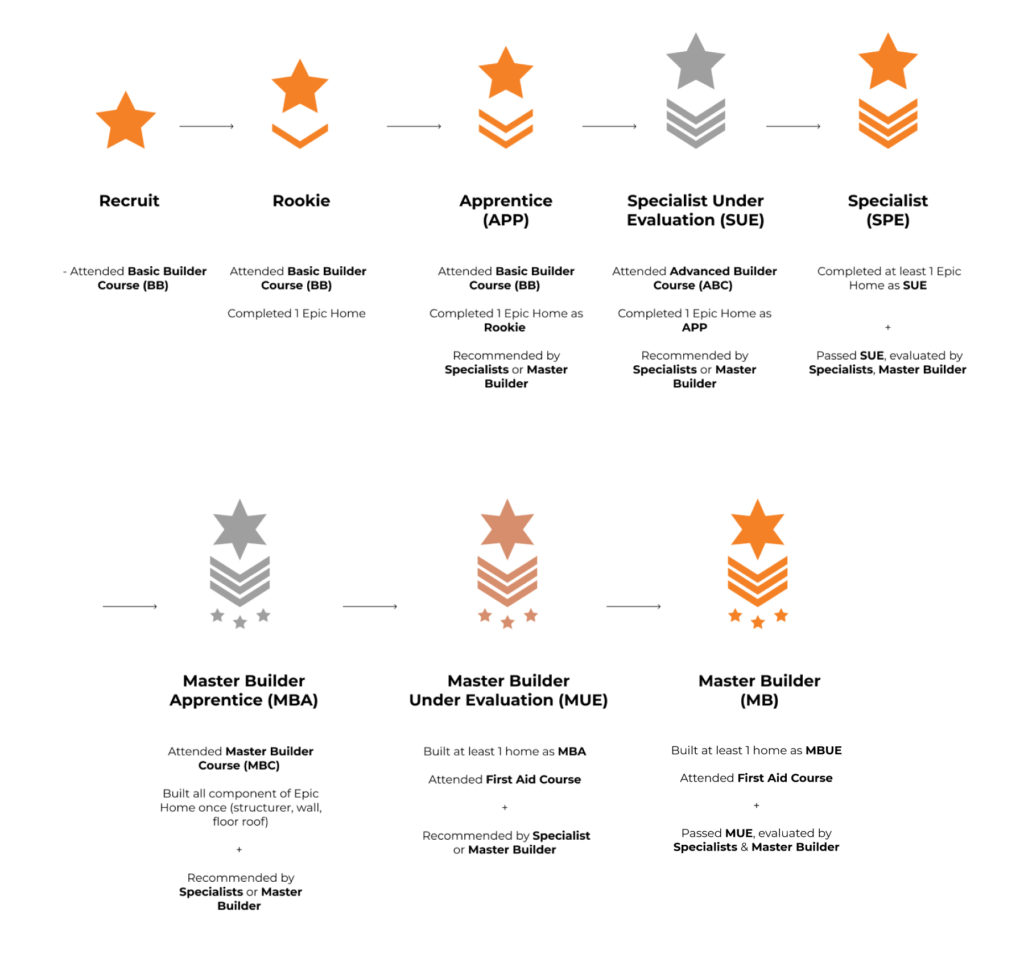 Subscribe to our monthly newsletter: